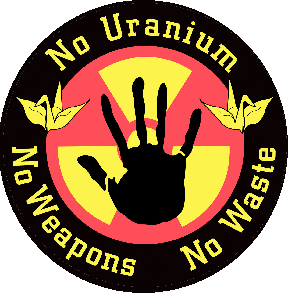 International Peace Walk Towards A Nuclear Free Future
BEYOND THE Nuclear Non Proliferation Treaty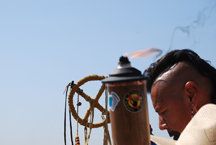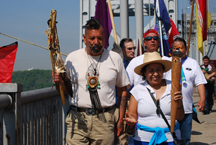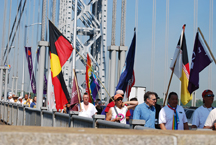 Five years ago after the disappointing result of the Nuclear Non Proliferation Treaty (NPT), Footprints for Peace members committed to walking for 5 years in the United States and Europe to build a global resistance to the nuclear industry.

Our vision since 2005 to 2010 was fulfilled beyond our imagination.

On May 1st this year, four walks from the four directions came together creating an incredibly beautiful strong gathering of 200 people from all over the world displaying color, creativity, diversity, resistance and solidarity for a nuclear free future.

On the same day, there was a women's walk in Australia happening in solidarity and a walk in Scotland being organized.

With the support and help of many people we had successfully created peace walks for five years in Ireland, Scotland, England, France, Switzerland, Germany and Belgium and today it was a fabulous feeling to walk over the George Washington Bridge, New York and down Broadway with Native American people leading the walk with the Abolition Peace Flame being carried.

I thought of all the people we had met over those 5 years who are working so tirelessly for a nuclear free future and more importantly for those who we are walking for the people who are suffering daily at the hands of the nuclear industry.

It was one of the most amazing experiences I have had on a walk that has given me such enthusiasm to continue our work for a world without nukes.

Just as Cesar Chavez had said "To make a great dream come try, the first requirement is a great capacity to dream; the second is persistence".

Over the 80 days on the walk from Oakridge, Tennessee where the Y12 nuclear weapons facility overshadows the beautiful town and land and covering a distance of 800 miles to the United Nations in New York we had much support from the local communities who housed, fed and hosted the walkers as we came through their towns.

We had a great many blessings to be thankful for.

We had discovered that at the grassroots level there is a massive peace movement carried in the hearts of American people. The media gave us front page news in over 20 newspapers along with dozens of radio interviews and coverage on one of America's largest news channel, CNN as we walked closer to New York.
There were frequent evening gathering that drew large numbers of people from diverse backgrounds that left with a greater understanding about the dangers of the nuclear industry and the connections between uranium mining, nuclear power, weapons and waste.

Senator Scott Ludlam's "Climate of Hope" DVD, was screened at every evening gathering during the walk. The DVD was met with great enthusiasm from local people who were inspired to organize more screenings in the future, in which we gave away all 200 copies. We distributed massive amounts of literature from Australia through our nightly stalls and on the streets as we walked. We spoke in schools, community centres, churches, town halls, mayors' offices and council buildings, reaching thousands of people along the way.

On Sunday May 2nd a rally was organized by Abolition 2000, and 10,000 people marched on the streets of New York from Time Square down to the United Nations.
Included in those numbers were 2,000 people from Japan who had come over for the 40th year of NPT review conference to strongly voice their desire to rid the world of nuclear weapons.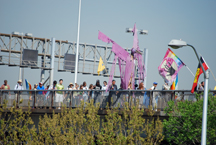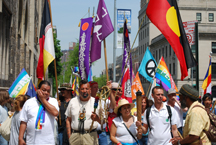 One of the most powerful moments of the day was the abolition flame that our walked had carried since the beginning of the walk was met with four other flames from Hiroshima. Together these flames were carried at the front of the rally with the Mayor Akiba (from Hiroshima where the flame originated), Mayor Bob Harvey (who lit the flame from Hiroshima and took it to NZ for the start of the World March), Kenneth Deer Secretary of the Mohawk Nation at Kahnawake, part of the Mohawk Nation and the Haudenosaunee, Rafael de La Rubia (World March) and Marcus Atkinson (Footprints for Peace).

At the end of the rally two of the Abolition Flames were presented to Sergio Duarte the UN Under Secretary and High Representative for Disarmament and Marcus Atkinson (Footprints for Peace) from Australia and Rafael de La Rubia (World without Wars) had been given this honorary job. Marcus handed Secretary Sergio Duarte not only the flame but peace cranes with a message from Australia to stop uranium mining.

This year again has been disappointing. Hillary Clinton, in her opening speech declared an increase of 100 million US dollars in funding for the International Atomic Energy Agency (IAEA) to step up its promotion of nuclear energy. For me this totally set the agenda for the NPT to focus more on the 'peaceful use of atoms' rather than creating a serious "action plan" to dismantle nuclear weapons. We all know that the Nations that have nuclear weapons do not want to seriously give up their weapons of mass destruction and want to control other Nations from getting nuclear weapons.

This year I felt there were even more talk and guarantees for more money to be spent on nuclear energy than I have heard on nuclear disarmament. With this I feel a sense of urgency to stop uranium mining more than ever. I feel that if the Nations are serious about nuclear disarmament then they would be putting a moratorium on mining uranium. So I decided to ditch the talks at the NPT and get involved in the nonviolence direct action being organized by the War Resisters League.

Marking the beginning of the UN Nuclear Non‐proliferation Treaty Review Conference the War Resisters League on Monday May 3rd declared New York City a nuclear weapons free zone at Grand Central Station. Twenty two people from all different age groups were arrested for asserting that nuclear disarmament should begin in the US.
As people rushed to work, huge banners on either side of the station got hung reading "Nuclear Weapons = Terrorism". About 80 of us circled the information booth and continued walking around handing out flyers and carrying banners urging the US government to disarm. We handed out 2000 flyers in just over an hour. At 9.00am when most of the flyers had been handed out the "die‐in" began and people started to get arrested in a very calmly manner. About 40 people supported the people doing the "die-in" by singing many great songs….including many versus of "We gunna keep on walking forward". It was wonderful to be a part of this action and be inspired by many people risking arrest.

The other inspiring event during the NPT was the Commission on Sustainable Development that was happening at the same time. In the framework of the 18th Session of the Commission for Sustainable Development addressed the issues of mining and waste in its current 2 year cycle. In relation to this the NGO group "Women in Europe for a Common Future" organized a lunch event on "Uranium Mining

Clear Perspectives on a Dirty Business" where we heard stories from a Navajo women, Bettie Yazzie whose husband died from lung cancer in 1974 after working 10 years in a uranium mine site operated by Union Carbide Corporation. She only speaks Navajo and was accompanied by a translator, Gilbert Badoni who is Navajo himself and son of uranium miner from Colorado. We heard that Gilberts' entire family has cancer.

We heard from a man from the Khasi tribe of Meghalaya in India who has been defending the rights of indigenous people in West Khasi Hills of North East India who happen to live in an area of great biodiversity richness but also on high grade uranium reserves. The Central Government of India and State Government of Meghalaya want to cut down 500 hectares of virgin forest to mine the uranium for nuclear programs. Look out for a film "Where the Clouds Come Home" produced by Chris Stone, Small Seed Films about the proposed uranium mining in Meghalaya. You can see the trailer at http://smallseedfilms.blogspot.com/

Included in the event was a fabulous panel discussion from the President of the NGO "Aghir in Man" who spoke on the situation of the Tuareg tribes in Niger on uranium mining activities of French nuclear operator AREVA.

We heard from Citizens for Justice, Malawi on the social, economic and environmental effects of uranium mining and Malawis newly opened uranium mine Kayelekera.
See http://www.cfjmalawi.org
for more information.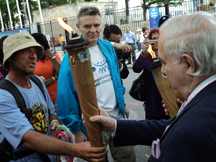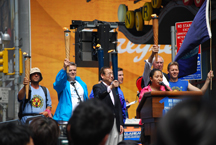 And finally with very little time from Ulla Kloetzer from Women Against Nuclear Power, Women for Peace, Finland on uranium mining and nuclear waste repositories in Finland. Because she had very little time she is going to email the detailed power point presentation she had prepared, and I will send this forward to anyone that would like a copy.
Many international participants in this meeting agreed that we need something like this to happen for the NPT!! It was a fabulous inspiring event for the many people talking about the absolute need to have a moratorium on uranium mining. Of course we couldn't resist the opportunity to talk about Roxby Downs uranium mine site and Australia's situation as the flyer for the event had used Roxby Downs as the picture of a uranium mine and tailings site.
Human rights ahead of economic rights!! So as the failing of the NPT 2010 unfolds, Footprints for Peace this month will launch a campaign for the next five years and beyond and commit to organizing grass roots non-violence direct actions for a nuclear free future beginning from Yeeliree, Western Australia next year. We will organize actions in Australia in Canada, the USA, Europe and Japan as our dedication to creating awareness of the genocide that continues today on indigenous peoples and their land from the nuclear industry.

Kerrie Ann Garlick

Footprints for Peace
For a Nuclear Free Future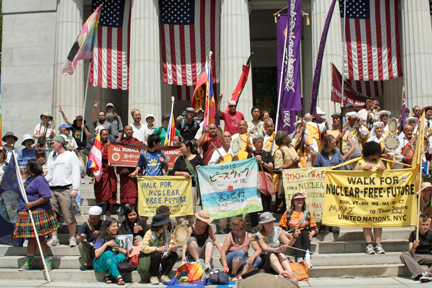 Day 79
Teaneck - Riverside Drive Church NY
The last walking day always has a little bit of everything exhilaration, exhaustion, excitement, confusion and weariness today will start as it has for the last three months with a morning circle and morning hugs. We have been joined by one of the other walks already the walk from Philadelphia to Staten Island. We will walk the first 3 miles and then we will be joined by the walk that started in Buffalo NY that started 2 months ago on the east side of the George Washington Bridge. Once across the GW Bridge with 160 walkers strong we joined the walk from Massachusetts and from local groups from New jersey and New York to have well over 200 walkers walking down Broadway on our way to the church.
We arrived the church around noon but they weren't expecting us until one so we went to Grants park and had lunch. All four walks coming together for lunch was great we got to catch up with old friends. At one we all gathered back together and took a big group picture and all entered the church. We received a warm welcome and a big congratulations then after listening to some of the speakers we still had work to do getting vehicles from where we left them in Jersey to tonights overnights and getting everyone back via public transportation. We are staying in the West Bronx community center tonight then tomorrow everyone will head off to the four directions.
Day 78
Today is a rest day and there are people getting ready to go home and people getting ready for our event tonight at Flat Rock Brook Nature Center and people practicing with Jake and Lissa from the olive tree circus for tonight's performance. Around 11:30 we had a circle to give everyone a chance to reflect on what the walk meant to them, and so that we all know what is going to happen tonight and tomorrow when we are going to meet up with the other walks and walk to riverside church all together. The meeting tonight was fantastic the list of speakers included Mary Olsen from NIRS, Kevin Kamp from Beyond Nuclear, Steve Leeper from Mayors for Peace, Ralph Hutchison from OREPA, Gilbert Nicolai a crew member from Le Fri and then we finished with a fantastic performance from the Olive Tree Circus.
Day 77
Montclair - Teaneck
The day was nice and warm but the route was confusing it always gets that way when you get back into the city. The day was pretty uneventful in the evening we are going right down the road to participate in a weekly local anti war event but this weekend they are adding a slogan Nuclear Weapons are 65 years old now and should take mandatory retirement we thought that was a cleaver campaign. After that we went to Leonia to the United Methodist Church and had a nice circle and pot luck dinner with the walk coming from Buffalo NY. It was really nice to see old friends and meet new ones.
Day 76
Elizabth - Montclair

Today has been a bit on the cold side and the wind has been strong to the point where if you didn't get sunburned you would defiantly get wind burned. Jason aka Snickers arrived this morning after taking the red eye from San Francisco and was a real trooper when he walked the rest of the day with us going on about 1 ½ hours of sleep. We arrived at Central Presbyterian Church around 3:30-4:00 and was greeted by Pastor Laurie McNeil it was a wonderful reception with a beautiful place to sleep shower and do laundry and a meal will be provided tonight by the community. At dinner time we were joined by the group of walkers that walked from Philadelphia to Staten Island organized by Jay Marx and Ethen Ganalla and they will be joining us until the end of this walk. After dinner people visited with each other and continued to work on routes internet and emails hard to believe only 3 more days to go to NY………..
Day 75
April 27th
Plainfeild - Elizabeth
Last night Larry and I finally caught up to the walk around 11:30pm at the Friends Meeting House in Plainfield NJ the same place we stayed the last time we walked to the NPT in 2005. The usual suspects were still up setting the route working on overnight stay places the web site and answering emails. After a short nap everyone was up and getting ready for the day. For a change we had sun and as long as we stayed in the sun it was warm. At circle we took a few minutes to remember Chernobyl day and all the events that were and are happening over the next few weeks in Europe and the rest of the world. We also celebrated Ammon's birthday today with a little bit of cake for the whole group.
Day 74
April 26th
Whitehouse - Plainfield
Today was a muggy not so nice looking day, the weather report is saying its going to be raining, all week!
Only going to be 19 miles today, yesterday was such a big day its amazing to see everyone getting up and ready for another long day.
Rained almost non-stop all day, good thing everyone has rain gear.
This morning was kind of a slow start, because we were told about clothes being washed and brought back before we left, the walkers ended up leaving and the drivers picked up the clothes. Such nice drivers. They also had to drop off this one girl that walked with us only for a few days at the train station, i hope to see her before New York.
later on in the walking we came across some problems, nothing too big, just that the shoulders on the road that we are walking on are going to get thinner at one point but go back to normal later. nothing to bad. It slowed us down quite a bit though.

Day 73
April 25th
Greenwich - Whitehouse
Sorry it's a bit late, but here is some video from a meeting we had on April 15th
with Eric from Three Mile Island Alert (TMIA)
This was the day we walked to Three Mile Island
Day 72
April 24th
Bethlehem - Greenwich
Day 71
April 23rd
REST DAY
Day 70
April 22nd
Hereford - Bethlehem
Day 69
April 21st
Pottstown - Hereford
Day 68
April 20th
Pottstown - Limerick Nuclear power Plant
It is another beautiful day outside, as we get ready to walk to the Limerick NPP.. Some local people are joining us and the discussion in town is heating up with the paper running an article about how the Hill School would not let us stay because of our insistence on going to Limerick. It is really good that we have generated a lot of debate within the town, but I do feel extremely sorry for the teacher who had made the arrangements for us to stay there. She is now caught up in the middle of something that should never have been an issue. The saddest part of all this is that the kids were denied the opportunity to hear an alternative to the nuclear industry. When did the education system turn into an institution that is so influenced by big industry? What is wrong with giving all sides of a story to students to help stimulate their own personal beliefs? Why can the military and other institutions go into schools and recruit young people to be killed, while we are thought of as to much of a threat and denied the opportunity to just speak to them.
Well to day we walked to Limerick and witnessed a lot of support from local people who have felt threatened by this nuclear power plant for two decades. There is so much that can be said here on Limerick, but it is best if people visit Buzz and Donna's web page. They have been working on this for so many years and have done and incredible amount of research.
Day 67
April 19th
Shillington - Pottstown
Well today started out good !!! with a great breakfast at the collage.. But things started getting a bit crazy after that!!!

We were scheduled to be at Hill School in Pottstown for two days and to talk to the students, But after an article in the newspaper about us coming to Hill school, we were contacted by them and asked NOT to go to the Limerick nuclear power plant. We explained that this was out of the question for us, and were told that if we decided that we had to go to Limerick, then the offer to stay would have to be withdrawn. SO!! That meant we had about 7 hours to find somewhere to stay!!!

At least we had an amazing walk down a beautiful trail to contemplate what had just happened.. One of the interesting parts of all this, is that Hattie, who has been fighting nukes in Vermont for so long just happens to have a grandson that attends this school.. So she was ropeable to say the least!!!
Buzz and Donna joined us at lunch, they run the Alliance For a Clean Energy and gave us great info on Limerick. They also started putting the word out for a stay place that may host us for two nights..

In the end it all worked out and we are being well feed by Harvey and Ellen and give thanks to everyone who helped us turn a bad situation in to something quite special...
Day 66
April 18th
Schaefferstown - Shillington
Day 65
April 17
Mt. Gretna to Schaefferstown

Schaefferstown, PA - Spring show how capricious it can be. Yesterday temperatures reached into the 70s. Today the high temperature was in the low 50s and a strong, gusty wind blew most of the day.

Luckily we only had about 10 miles to walk, and the first 3.5-4 miles were on a "Rails to Trails" walkway that was sheltered by the trees. These trails are former railroads where the tracks have been taken up and the steel recycled. They make for wonderfully wooded, flat walking paths abundant with Jack-in-the-pulpits and May Apple flowers.

Once we were out of the shelter of the forest, the wind blew hard. But we were walking through some of the most picturesque landscape imaginable. One immaculately -kept farm after another, most of them Mennonite. We arrived at lunchtime at our host church, St. Luke Lutheran Church, and were welcomed by Pastor Daniel Donmoyer, who greeted us with the welcome news of showers, a meal provided by the church AND foot massages this evening.
Day 64
April 16
Middletown to Mt. Gretna
Today we did 16 miles. There were 19 walker's on the road to start the day. The walk has grown in size about 100% in the last few days, we are now up to 20 with a few more scheduled to arrive very soon. Ellen and Sharon from St. Peters in Middletown were along for the first 8 miles or so. It was very nice to get away from the city and back into the country, which we did in the first mile or so after leaving Middletown. We left Hwy. 230 after the first mile and a half or so and got onto and stayed on Hwy. 341 for the majority of the day. It was a nice day for walking, mostly sunny, though it did cloud a bit and even rained some right at the end of the day.

We have heard many story's the last week or so from locals on what happened on March 28 1979, the day of the nuclear fallout at 3 Mile Island. Some of these have not so very happy endings, much suffering happened, and still continues to happen as a result of the gross incompetence that took place in those few days leading up to 3/28.
It is truly a crime against humanity that the nuclear industry continues to exist. In every step of the way nuclear and in any form, the nuclear industry is a highly destructive, inefficient and wasteful process.

We arrived in beautiful Mt. Gretna about 4 p.m. and were met warmly by Pastor Mike from the Mt. Gretna United Methodist Church. We were treated to pizza for dinner and then Ellen and Sharon came back (w/ Charlie) with ice cream to top off the night.

The winds got real bad (about 40 miles a hour) and then the rains came back in a big way and the electricity went out for the rest of the evening.

PEACE-art
Day 63
April 15th
Rest Day
Day 62
April 14th
Harrisburg - Three Mile Island
Day 61
April 13th
Carlisle - Harrisburg
Day 60
April 12th
Shippensburg - Carlisle
Day 59
April 11th
Rest Day
Today started of quite and slowly, but then turned into a lot of meetings and talking with people. It is good for us to be talking to so many people, but it is also extremely difficult to find the time to do laundry and stuff.... OH!!! and Noe got a good hair cut from Ammon..
We then took of into town to get some paints so as we can decorate our support car.. While walking around the town we came across a nuclear fallout shelter. It holds 146 people so we were wondering if there are any other ones around the town, or if the town is only going to let thee first 146 people in and then lock the doors!!! If any thing was to happen there may not even be 146 people that go there as most people I spoke to didn't even seem to know that this one exists!!! It is strange what you notice when nuclear issues are on your mind all the time.. But it is also strange how a lot of people don't even notice what is in their own town and are completely oblivious to what the nuclear industry is up to.
Hopefully nothing will ever happen that will send those who know running for the nuclear fallout shelter, BUT while we have over 20,000 nuclear weapons in the world, WHO KNOWS!!!
Day 36
March 19th
New Concord - Cambridge
This morning we only had nine miles, so we spent the morning at the collage and had a great breakfast and talked some more with some of the students that we had met the night before. After a nice easy walk to Cambridge, Dave greeted us at the church that was hosting us for our rest day. The good news for the day was that many people along the road knew what we were doing as the news had ran a story on TV about us the night before. Also the Collage had a great picture of the FIRST SUPPER that had an Aboriginal Women sitting in the middle wearing a T-shirt with the Aboriginal flag.
The bad news of the day was that we heard that Hilary Clinton had just promised India in some nuclear deal that the United States would help India upgrade its military arsenal and that General Electric and Westinghouse would build two new nuclear power plants in India. I am not sure what India will do in return for the United States, except maybe give them lots of money!!! Part of the deal will also involve the fact that if anything goes wrong with these two nuclear power plants, then the United States will have no responsibility...
This along with the French President announcing that the world will build up to 300 new nuclear power plants in the next twenty years with aid from the world bank makes me feel like I am living in some kind of surreal nightmare...
Well tomorrow is a rest day and maybe I will wake up to a more sane reality, BUT some how I doubt it!!!!
Day 35
March 18th
Zanesville - New Concord
Saturday March 19 we walked for 16 miles today in increasingly beautiful Ohio farmlands. The weather was great, and has been just perfect the last couple of days at about 60 degrees and sunshine all day with a slight breeze. I was walking in my boots that have been pretty comfortable so far, but today with the increase in mileage my feet seem to have swelled a bit and I started to form blisters on my right heel which made the trek a little more painful than the usual muscle ache that I have been getting, unluckily I will only be able to walk for a week and a half so my muscles and feet will not have the distance to toughen up and make walking easier.
Today was hard, not because of my muscles or the blister burning into my foot, but because of the intolerance to our peaceful cause that I felt today. I know that we are walking in the heart of America, where the idea of a peace walk is not only foreign to most of the residents but also it goes against a lot of what they are taught about how we are supposed to feel about our government and the world we live in. Everywhere we look we are seeing signs that say,"God Bless our Troops," and other pro military messages, these are posted in business windows, lawns, and on car bumpers. It is not hard to understand that people working for peace through peaceful means are in the minority here. What seems to be the major obstacle of the relationship between peace activists and people that support war is that we overlook that on the basic level we are all striving for peace. The primal drive for peace was overlooked today when a passing car spit on me, they might not have noticed that I was wearing a desert camouflaged booney hat that I received in Iraq, or they did see it and was extra motivation for their action. Either way I was spit on, an American Veteran was spit on, not by counter war protesters against the occupation of Iraq and Afghanistan, but by people that possibly believe that war and nuclear weapons/power are protecting the American way of life.
Sadly I will be leaving this coming week to go home, but I will rejoicing to be with my family again. My family is a big motivation for me on this walk, I do not want my children to live in a world that is contaminated with nuclear waste and war. They are both weapons that are hard to control, that should be eliminated as soon as possible, both are obsolete in this world. Wind power alone could fill the United States need for electricity, but we have so many options including more and more efficient solar power. There are whole cities in Europe and Asia that are powered by solar power alone, we just need to change our ideas a little and increase the federal funding for it to make safe power a reality.
One idea that has struck me as key to re-understanding our electrical needs and solutions today is to get away from the idea of an electrical factory, where the factories are far away from the city centers. In the U.S. we are losing about half of the electricity produced just in the transportation from the power plant to the city centers, this is horrific when we should be trying to conserve our energy usage as much as possible. An easy solution would be to make all government buildings required to have solar panels on their roofs, along with bus stops and all homes. We could then feed the grid instead of suck from the grid, an easy step to make a more peaceful and safe environment for our children.
Ash Woolson, VFP member ch.111
Day 34
March 17th
Hoitios - Zanesville
Today was an early start as we had 12 miles to do before 11.00am. The reason for having to be in Zanesville by 11.30 was that the Mayor was scheduled to welcome us into Town. Mayor Rodger Zwelling has agreed to put forward a proposal to the city council that they join Mayors for Peace.
So it means that we have an early day and can take some time to wash clothes again and spend some time sorting out the next few weeks on the road.
The media came out today and I will be very interested to see what they put on. On of the people in the TV crew actually turned to me and said, " OH you are against nuclear power as well, my dad works at a nuclear power plant"
Day 33
March 16th
Hebron - Gratiot
I joined the walk today and will be walking until the 28th about a week and a half. My family Seres (my partner) Finn (daughter) and new baby Ahimsa (son) all helped to organize the Footprints for Peace's stay in Columbus, Ohio. I have been excited about this walk coming through my back yard in Ohio where more peace work is needed. Everyone I talk to shares ideas about changes that could make things better in this world, but few people are actually doing anything to promote a healthier tomorrow. Out here on the walk we are doing something for our future, and for today, I always feel better doing something versus talking about doing something. Thomas Aquinas had philosophized that God had to be real because God being real was greater than God not being real. I like to think about that in my everyday life. I like to ask myself,"What is greater Ash, is this talking greater than doing?" if the answer is no, than I must do.

We are staying at the Gratiot United Methodist in Gratiot, Oh. Apparently there are two churches in Ohio with the same name and our organizer the Great John Blickenstaff had accidentally arranged us to stay at the other Gratiot United Methodist church which is South of Columbus when we are heading East, but he prevailed and was able to contact this United Methodist in time with the skills that only he could muster and they have graciously allowed us to stay here for the night. By the hair of John's chinny chinny chins we have a place to sleep tonight. A big thank you goes out to pastor Martha Gross for letting us stay here on such short notice.

I am new to this area of the United States, central U.S., and today while I was walking I was amazed at the number of airplanes I saw in the blue sky, most of them had long moisture trails streaming off of their behinds. At one point I saw about eleven of these white lines in the sky, it is interesting to see all the geometric shapes that they make as the sky gets divided again and again. Late into the evening right before the sun set, these trails turned to pink, then the sun went down and the whole sky light up with pink highlights before everything faded to black.
Day 32
March 15th
Reynoldsburg to Hebron
Our second day walking east out of Columbus begins with a beautiful sunrise and clear skies. We had to say good-bye to the folks from Olive Tree Circus as they leave for their gig in Detroit. We will miss the creative spirit and youthful energy they brought, even the adults. So now, with the other walkers who left over the weekend, our numbers are down to nine walkers. I try to keep in mind that numbers don't matter that much, that we will walk to New York even if it's just Marcus and I, but I still wonder what happened to all the people who wrote to us on Facebook last year saying they were coming. I end up spending most of the morning fixing the flat on the trailer and making phone calls to set up accommodations, so I don't start walking till after lunch. As we walk towards Pennsylvania on old Rt. 40, we begin to leave the flat rich farmland of central Ohio and see more hills and the rocky soil of the Appalachians. Even the ornaments in people's yards become tackier, though nothing compared to what we saw at Wiley's Last Resort on top of Pine Mtn. in Kentucky. Our long day of walking finally ends in the Kroger parking lot in Hebron and we all pile into the vehicles and drive to our accommodation where we are hosted by another Catholic Church. They are grilling hamburgers and have put beds out for us in the sanctuary! What a pleasant reception and after much interesting conversation, some of it even having to do with issues around nuclear weapons and nuclear power, we finally give it up and head for bead.
Day 31
March 14th
Columbus -Reynoldsburg
After an amazing rest in Columbus and a great visit with old friends along with making new friends we had to depart and head towards Reynoldsburg. After a few support car dramas and some help from local people we got out on the road and walked through the urban sprawl ALL day!!!
Each day we walk, there seems to be an endless amount of information coming to us about more and more taxpayer's money being funneled to the nuclear industry...
This is such an important time for us to come together on a global level to stop what is happening.. While the French President is calling for the World Bank to fund nuclear power plants, the Australian government is targeting Aboriginal communities for a nuclear waste dump. Parts of Africa are facing a new colonization led by uranium mining companies, while India is steaming ahead on International nuclear agreements, even though they are not part of the NPT.
But then the NPT is just a front for the IAEA (International Atomic Energy Agency) how's mandate is to spread nuclear power to the world... and the way things are looking at the moment... It will be with World Bank support and taxpayers money.
This industry is DIRTY, DANGEROUS & EXPENSIVE, that is why they need your money to do it...
Today NIRS sent this out and I feel that it is important to share with everyone who is following us on the walk.

Last fall, Sens. Lamar Alexander (R-Tenn.) and Jim Webb (D-Va.) introduced S. 2276, the "Clean Energy Act of 2009." But this bill is the opposite of a "clean energy act"! In fact, its primary intent is to encourage the construction of at least 100 new reactors in the U.S. by 2030, encourage reprocessing of radioactive waste, promote additional "small, modular" reactors, and build a new nuclear power infrastructure. Alexander and Webb claim they'll do all this with less than $20 billion over the next 10 years.

Sure. And pigs fly, fish ride bikes, and nuclear power is safe and clean. Their proposal would expand the federal "loan guarantee" program not by a "mere" $50 or $100 billion, but by putting taxpayers on the hook for as much as a $1 TRILLION giveaway to wealthy nuclear power interests. Yep, you read that right: as much as a trillion taxpayer dollars for new nuclear reactors. Here is more background on the bill from Physicians for Social Responsibility.
As you know from our previous Alerts; these aren't just loan "guarantees," they are actual taxpayer loans from the obscure Federal Financing Bank. Why should taxpayers be subsidizing the likes of General Electric, Electricite de France, Westinghouse and Areva?

So far, there has been no movement on the Alexander-Webb bill. But suddenly this week, they are circulating a "Dear Colleague" letter to other Senators seeking new co-sponsors for the bill. That is typically a first step in trying to move a bill.

Please write your Senators here and ask them not to co-sponsor this bill. At the same time, remind them that there must be no taxpayer subsidies for nuclear power in any upcoming climate bill as well.
The nuclear industry already has received--with just one loan for Georgia's Vogtle reactors--65% of all the loan guarantee money granted by the Department of Energy. Here is an analysis of grants given so far. A trillion-dollar nuclear loan program would force our nation on a nuclear path, and forever end the promise of clean, safe, renewable energy. We can't let it happen.

Please help spread the word. Send the link to our action page to your family, friends, colleagues and organizational e-mail lists: http://org2.democracyinaction.org/o/5502/p/dia/action/public/?action_KEY=2366 This bill may be absurd, but it is also dangerous, and it's important that the Senate hear a clear message against it from the American public.
In other news, in just two weeks we've passed the halfway point to our 10,000 signature goal for our petition to Congress to stop President Obama's proposed $54 billion nuclear loan program! If you haven't yet signed the petition, please do so here. And please help us spread the word about the petition as well. We need to stop ALL taxpayer loans to the nuclear power industry.
Day 30
March 13th
Rest Day
Today was a well-deserved rest day and we all took the opportunity to dry our wet clothes and do a bit of the scanky laundry we are all collecting....
Amissa, Phoenix and Holly had to leave today, they will be extremely missed, but hopefully we will see them again.
Got to hang out with the circus crew, who put on an awesome performance last night and we were busy making arrangements for them to join us in New York.
There has been an incredible amount of food coming in to the Quaker Meeting house over the last two days. Big thanks to Food not Bombs, Women in Black, Central Ohioans for Peace and the Quaker Meeting house.
Day 29
March 12th
South Bloomfield - Columbus
After spending the night in the offices of the cemetery chapel (a first for us!) and a delicious breakfast provided by Father Bill and Colleen, we stepped out for our last day
walking up Rt. 23. Woo-hoo! We first walked on 23 in Pikeville, Kentucky, back in coal country. It has been a long, noisy, dirty trek, and today we were cleansed by a torrential
rain as we walked into Columbus. Seres, Ash, Fin, and their one week old son Ahimsa Leif met us on the outskirts of Columbus. They have been our incredible organizers for
our two day stay here. It was nice to finally walk into our Columbus accommodation and sit down to a delicious meal prepared by Food Not Bombs.
Seres and Ash organized an evening event for meeting the community where Marcus talked about the devastation caused by uranium mining in Australia and the links between nuclear energy production and nuclear weapons. We were then entertained again by the Olive Tree Circus who happen to be on a tour through Ohio and Michigan.
It was an entertaining and informative evening but we were all ready for a much needed rest day.
Day 28
March 11th
Circleville - South Bloomfield
Less than a week ago we were in Piketon, where Duke Energy and Areva and pushing for the construction of a new nuclear reactor.
Then today we received the news from Sortir du nucléaire and beyond nuclear that confidential documents revealed to French activist group, this week show that the design for the French Evolutionary Power Reactor (EPR and known in Europe as the European Pressurized Reactor) presents a serious safety risk and could explode. The documents, leaked by a source inside the French national utility, Électricité de France (EDF), confirm that corporate profitability is being placed ahead of public safety in the rush to deliver a new reactor design at minimum cost. The documents show that the Areva-designed reactor has been approved for construction and marketed around the world, despite inside knowledge about the reactor's vulnerability to a major accident. Originally slated for six U.S. sites (and seven reactors) the EPR is currently on track only at the Calvert Cliffs site in Maryland, where it is very likely the next recipient of federal loan guarantees and is the reference application which would streamline the way for other EPRs elsewhere. It is under construction in Finland and France, where both sites are mired in huge delays, technical flaws and massive cost-over-runs.
We did have some media as we walked through this area, but later we found out that the Mayor actually works at the Piketon facility. This may explain the many misquotes in the paper. It is interesting how a reporter can take your words " nuclear facilities should be closed down and the site should be transformed into a renewable energy centre" into nuclear facility should be invigorated by the use of renewable energy!!!!
Day 27
March 10th
Chillicothe - Circleville
Yesterday we walked from Chillicothe to Circleville and it was a really long day; about 19 miles. It was really nice to leave the papermill area; the smell was a bit like salty dead fish. It was very sad to think about how they are cutting down the last of our forests when 80% of Ohio is privately owned. I had never seen so many trees piled together and it felt like walking through a cemetary. In fact today we are actually staying in a cemetary. I think of how little respect there is towards earth. It is all interrelated. This lack of respect is especially seen in how much litter is along the roads. I guess the litter law is not working and the $500.00 fine needs to be increased. In fact I don't think that there is even a square inch of unpolluted earth. Somehow despite all this Mother Earth survives. She is strong and the land is beautiful !
I also think the lack of respect is seen in how much roadkill is along the roads. In one particuliar area where we stopped there were three dead deer together with one of their heads cut off. I highly doubt a prayer was said before we arrived. There is also alot af dried corn along the roads. Animals like corn. Is someone trying to attract animals to the road?
As we walk on this peace walk against nuclear bombs and the harvesting of uranium that when messed with can cause electrons to become unstable and highly dangerous to ourselves and future generations. I think we can all agree that no matter our differences we want to breathe clean air . We would like future generations to be able to live beside trees and animals. May our future generations not be poisoned by radiation. We owe that to them!
DAY 26
March 9th

Waverly - Chillicothe
Today we had our first day of walking in the rain, as we started out a huge down pour came and lasted for about an hour. It just seems like there is so much going on here.. The last three weeks has seen us at a Nuclear weapons facility, Mountain Top removal, Uranium Enrichment plant that may end up a site for Uranium De-conversion and a new centrifuge enrichment centre. Not to mention all the clear cutting going on here.. It just seems to be endless.. Then to day we seen why there is so much clear cutting in this area... A massive paper mill!!!!
It was great to have time today to talk with Lee Blackburn. Lee has been a big part of the movement down here and it was great to speak with him about the enrichment process in the United States. After long discussions with Lee about this, it became clear that a lot of the uranium coming from Australia to the United States would have travelled through this area.

Firstly it would have travelled by ship, most likely through the Panama Cannel and into New Orleans, then either by truck or rail into Oak Ridge. Beside the Y-12 Nuclear Weapons Facility is the old K-25 enrichment Facility, which use to do the first stage of enrichment. From here it would have travelled to Paducah in Kentucky for further enrichment and then onto Piketon for the last stage of its enrichment, with much of it being enriched enough for use in nuclear weapons.
At this moment Paducah is the only enrichment centre still operating in the United States, so all of the uranium imported from Australia and other countries is going there. But USEC is trying to build three new facilities around the Country. This is a sign of their intent to keep this industry growing...
One question that comes to mind, is the fact that the Australian Government says that NO uranium from Australia ends up in Nuclear Weapons. BUT, who monitors this? Do we just trust the DOE and the United States Government.!!!
The amount of lies that both our governments have told us, makes me think that this may just be another one of them times that the Government just tells us whatever they think we want to hear.
DAY 25
March 8th
Lucasville - Waverly
The good news of the day is that the execution of another human being is not going to happen. The sad news is that they are just delaying it... It is impossible to imagine how it must feel to be locked up and just waiting to be killed by the State.
What makes the government feel they have the right to take another persons life?
This can also be asked of nuclear weapons, who gave them the right to take our money and build nuclear weapons? How is it possible that someone can order the use of such a weapon that would destroy whole populations and possibly everyone and everything on the planet?
After the use of such a weapon on the people of Japan, we should have abolished the creation of such a weapon, as a crime against humanity. But instead, we made more and made them even more powerful.
If we do not abolish these Weapons of Mass Destruction, we are locking ourselves into an uncertain future. Waiting for Mutually Assured Destruction (MAD).
This is not the only MAD part, what is really MAD is the amount of resources that we have allowed to go into developing such a destructive weapon.
IMAGINE a world, where all that money and the resources were put into services that would benefit society.
Another World is possible, and we can start moving in that direction, all we need is our political leaders to be pushed that way by us.
DAY 24
March 7th
Portsmouth - Lucasville
The walk left Portsmouth today on it's way to Lucasville, we decided to walk an extra few miles today so as we can be a part of a vigil that will happen tomorrow morning at the prison. At 10am Tuesday morning the State of Ohio will execute a prisoner at the Lucasville house of death. It seems crazy that this is still happening in the 21st century. Ohio is actually one of the worst, coming a close second to Texas in the highest amount of executions.
What I find disturbing is that 10 miles down the road the government in partnership with a private company are responsible for highly enriching the uranium for most of the nuclear weapons that have been built in the last 50 years.
So this government is building Weapons of Mass Destruction that can destroy everyone on the planet, steals money from hospitals, education and health care while polluting the environment and then executes people to teach us that killing is wrong!!!!
What great leadership we have!!!!
Time to RISE UP people....
DAY 23
March 6th
Portsmouth, Ohio
Today was a semi kind of rest day as we spent the day visiting two very different sites. Our first trip was out to a Native American sacred site here in Portsmouth. It is a Horseshoe mound built about 2000 years ago and it is part of a much larger system of mounds that span about 30 miles. Che & Jimmy who are the caretakers of the mound were there to give us some of the history and also explain the desecration that has occurred here over the last few centuries.
Our next trip was to the USEC nuclear plant near Portsmouth.

It is beyond belief how different these two places are, one has left a story of community and honouring the earth. The other is a place that represents the madness that has been caused by our addiction to energy.

While the Horseshoe mound and surrounding sites for 2000 years has given people a place to gather and respect, it is also true that it shows us how the indigenous people were killed and moved off their lands in a quest for greed and power. The end result after years of greed and power leading our society is what this nuclear facility represents. A place that has poisoned the land and left us with a substance that will haunt life on this planet for the next 100,000 years.
DAY 22
March 5th
REST DAY
Well today was a well-deserved rest day after spending the last three weeks walking in the snow, the sun is finally here.... (Hopefully it stays around for a while!!)
Today Lori Swain, Eric O'Neil and Lee Blackburn gave a talk to us about the Piketon nuclear facility and what the situation is now.
Firstly Piketon is on 3714 acres of land and was established in 1954. It enriched the vast majority of uranium used in weapons production between then and 1991. At this point it enriched uranium primarily for reactor use until 2001 when it was put on cold standby. (meaning closed, but ready to start up again!!)
In 2007 it was announced that it would be closed and the superfund that is designated by the government for clean up kicked in. This means there has to be a citizens advisory board, which Lee and Lori were a part of until they resigned in protest last August after finding out that behind the scene there was negotiations happening with Duke Energy, Areva and other companies to look at the possibilities of building a new reactor.

So at the moment the Piketon Plant looks like being renamed the Energy Park Initiative. USEC (the only United States company doing uranium enrichment) with have it new centrifuge enrichment centre here, and there will be a de-conversion centre for Depleted uranium where they will heat up the D.U and separate the Uranium Oxide and Fluorine gas. The fluorine will then be available for the open market and will used in everything from toothpaste to water treatment...
One last little fact on Piketon is that in it's hey day it needed seven coal fire power plants running 24 /7 to operate, using
more electricity than the whole city of Los Angles.
DAY 21
March 4th
Greenup - Portsmouth
Today is the 40th anniversary of the Nuclear Non Proliferation Treaty. It is ironic that we are walking into Portsmouth today,
as just a few miles north from here is the Piketon nuclear facility. This is one of three enrichment facilities in the United States.
Oak Ridge where we started from is one and the other is in Paducah, KY. But it is the one at Piketon that has been responsible for
enriching the uranium to weapons grade since the late 50's. The majority of uranium that the United States has used in the last
fifty years has gone either to Oak Ridge or Paducah for the first stage of enrichment, then transported to Piketon for more
enrichment and in some cases it was here that it was enriched to weapons grade. So on the 40th Anniversary of the NPT it is
Ironic that we find ourselves here, at the very facility that was being used in violation of the NPT. The fact the
President Obama is now looking at giving 2 billion dollars to upgrade this facility is a sign that the NPT will not be
honored in the foreseeable future unless we as concerned citizens come together an demand and end to government
bail outs of the nuclear industry and an end to the government being controlled by the military industrial complex.
DAY 20
March 3rd
Ashland - Greenup
Today we saw a constant flow of trains carrying massive loads of coal. This was being done by CSX transport, which is responsible for the majority of rail transportation of coal through this area and have also been heavily involved in the transportation of nuclear material. At the Y-12 plant where we started this walk from, CSX had for many years been involved in the majority of nuclear material being transported to the facility. At one point the DOE (Department of Energy) had to step in and help pay for the clean up of the rail tracks and surrounding soil due to radioactive contamination.
Another bail out for big business at taxpayer's expense...
When they start to incorporate all these expenses into the price of nuclear what would it really be?
BUT, that doesn't matter to CSX, while the government handouts keep coming they will keep pushing more fossil fuel and nuclear.
Here is what the Mr. Ward, the CEO of CSX had to say about 18 months ago... Looks like President Obama liked his advice
"There's a move a foot among the environmentalists to block the usage of coal," Ward said. "It's probably one of the stupidest things you could do. We are the Saudi Arabia of coal. It is an abundant, low-cost energy.
"There have been a lot of environmental restrictions put on coal in the last 25 years," he said. "Emissions have been reduced dramatically. Now they're coming after CO2. There are potential technologies, carbon sequestration and other developments that can turn carbon dioxide into a useful product. We need to use innovative technologies to make it useful. We need to find ways to burn coal more cleanly.
"We're already somewhat challenged competing in the world," Ward said. "There are advocates of wind and solar. If we put in a big effort there, we might generate 5 to 10 percent of what we need at a much higher price but we'll never meet our needs. We need to build coal-fired plants and some nuclear plants as well.
"If we continue the path we are on, it will drive up the cost of heating homes, manufacturing," he said. "We need to bring some sense to what our energy policy should be."
"Hopefully President Obama and his colleagues in the House and Senate will bring a proper policy to the nation so we can have coal in its proper spot," Ward said.
Day 19
March 2nd
I know the run day might seem a little confusing but it's really simple. The walkers will still walk 13 miles but today we are going to cover 73 miles. So we will relay run the rest by dividing up the miles between the people that want to volunteer to run.
The day started out with the normal activity morning prayer, having breakfast, packing the van and having morning circle so we all know what's happening and where we are going. It has been decided that the walkers will drive forward and walk the last 12 miles and then wait until the runners are finished then we will all come together and walk the last mile as a group.
The day seemed to go off without any problems. It was a great day for a run cloudy and just cold enough for a light snow. We meet up with the walker's right outside of downtown Ashland and had some lunch then we all walked the last mile together. It was great to be on the road with all my friends again and I look forward to seeing everyone again in Portsmouth Ohio. Jim Toren
DAY 17
March 1st
REST DAY!!!
It has been a great week of walking and talking to people... After many conversations about our energy needs and the way governments are proposing nuclear for the solution to Climate Change and Clean Coal as a new alternative, it is encouraging that people are seeing through this propaganda and speaking out. The mining industry has a lot to answer too, for it's blatant disregard for nature, local communities and the needs of future generations. They leave a trail of waste, suffering and and pain where ever they have raped the earth and the community. It is hard to put into words how much damage they have done through out the world and then turned some of these minerals into bombs that could actually destroy the world 3 - 4 times over!!! Yet we need more!!! At the cost of the people around the world who suffer with everyday needs of basic things like water, food and in some cases fresh air!!!
Click here for a quick slide show of this week
Music is live by Charlie & Vanessa who we stayed with for 3 days
DAY 16
Feb 28th
Pikeville - Ivel
Our hosts have been so welcoming and warm it is difficult to leave. We have been with them for three nights, shuttling ourselves back each day after walking. Words can't possibly express how meaningful this experience has been for us, and our hosts say our visit has been valuable for them as well. The whole experience has confirmed that it was right to walk through the coal country of southeastern Kentucky. We have all been touched by the courage and determination of the people we have met who are working so hard to preserve these mountains.
With each passing day we continue to make our slow progress towards New York, and today it feels like we are beginning to leave coal country and begin a new phase of the walk. The mountains don't seem so steep, and our mobile phones are even beginning to get intermittent service. We will now stay on US 23 north until we get to Columbus. It is a wide busy noisy four-lane road where we get lots of exposure.
Just before lunch we came to the support car parked at one of the ubiquitous fast food chains for a break. We were greeted by several employees who came to see who all these strange looking people were. One of them was the manager who invited us all in for free coffee. It turns out her boyfriend had just seen us on the road and called her to say that the group they had seen earlier on TV was walking toward her restaurant. She was so moved by our dedication that she gave us anything we asked for, so we enjoyed free French fries, coffee, hot chocolate, and apple pie. As we expressed our appreciation for her generosity she said everything happens for something, once again confirming how synchronous life is when one is lead by the heart.
The rest of the day is damp, grey, chilly, and noisy, so we are glad to reach our new place to stay where we look forward to spending a pleasant rest day.
DAY 15
Feb 27th
Vergie - Pikeville
I caught up with the walkers at the recycled church(to a home) in Seco Ky around 9 pm. I could tell as soon as I walked into the room that the last few days had taken a physical toll on the crew, because at least half of them were already asleep. Soon I would join them.
After breakfast we all went out to load into the van to be shuttled back to where we stopped yesterday. Today we would transfer from the old narrow road followed the previous day to the wide 4 lane highway 23/119. Charles had guided the group through a moving journey to devastated mine sites, and the nearly abandoned old mining town of Neon. This gave us a chance to see first hand the effects of mining on the local communities and the people who live here.
We had routed this walk through the Kentucky coal fields just for this purpose, to get an up close and personal feel for the struggle playing itself out in this incredible region. We have come to see that the nuclear industry in all its various forms is inherently joined at the hip to the coal energy industry. The massive amounts of electrical energy needed to process the uranium fuel into rods for the reactors and further into weapons grade plutonium needs the MTR coal for its lifecycle.
The experiences of all of us in these communities where we are supported by the people who resist MTR mining will be carried forward and help us harden our resolve even more than prior to this journey. We consider these contacts being cemented into relationships will help us all work together in the future, so therefore this choice of routing has been a smashing success thus far and should continue til we leave the coal fields for now-but we will be back!
As we walked on our route today we passed several strip mine and mountaintop removal sites along highway 23. I thought of the old 70's John Prine song about paradise in Muelenburg county Kentucky - "and the coal company came with the worlds biggest shovel and tortured the timber and stripped all the land, they dug all the coal til the land was forsaken, and wrote it all up to the progress of man." I can't for the life of me begin to understand how anyone can have a heart and call these rapes of our Mother Earth progress! This song is around 40 years old and is just as germane today as it was then - some things never change - at least until you force them to! Til the AM
DAY 14
Feb 26th
Seco - Virgie
Today we walked out of the town of Seco towards Pikeville, and the snow was still coming down. The town of Seco gets its name from the South East Coal Company. It is an old town built by the company for the miners. Across the road from where we are staying is the old general store which was run by the company. The miners were paid with script from the company and would use that to buy goods from the store. (of course they were over charged by the company!!!)

Today we walked past some of the mountain top removal, all well hidden from your regular passer by's, but Charlie our host was kind enough to walk with us today and show us through the back roads.

We also seen the effects of mountain top removal on the community, the process of mountain top removal has reduced the employment by nearly 50% and increased the removal of coal by around 50%. This has created ghost towns and poverty while the company rakes in the profits from blundering the land.

There is so much to write about the mountain top removal that is happening here, but maybe it is best if you can all visit the Kentuckians for the Commonwealth.
www.kftc.org

DAY 13
Feb 25th
Wiley's last resort - Seco
As the peace walk proceeded down the mountain into Whitesburg, KY today, a slushy snow seeping through the seams of our shoes and soaking our socks, the view opened and a wan sun revealed a series of interlocking hills with snow blanketed houses nestled into the nooks and crannies of the landscape-"hollers" as the mountain people call them. The piercing beauty trumped the misery of our feet. This journey seems to be a balance of opposites such as the awe of nature vs. the awfulness of a desecrated land or the misery of the elements forgotten amid the rejuvenating love of our hosts.
We've been privy to a much larger drama of light vs. dark as we walk through this part of Kentucky. Whenever the blessings or mysteries of the earth are reduced to commodities-be it uranium, coal, trees or the food we eat-there is exploitation. This lesson plays out in eastern Kentucky where the mine operators' greed for coal has led them to blowing off the tops of mountains to get at ever smaller seams of coal now that the larger seams have been tapped out. On the other side are some amazing organizations working with local people to preserve, appreciate and uplift the culture and the land of Appalachia.
This morning we left one outstanding example of this work, the Appal Shop, where we had stayed overnight. The Appal Shop is one of two organizations left in the country that was started during Lyndon Johnson's War on Poverty in the 1960s. It's continued existence is testimony to the commitment of the organizers as well as the pride that the local people take in their culture. It promotes filmmaking among youth, music recording for local artists, and houses the most amazing radio station, WMMT-the voice of the hillbilly nation-which can be listened to online at http://www.appalshop.org/.
We also have been hosted in these parts by people active in Kentuckians For The Commonwealth, KFTC, which celebrates 30 years of organizing, educating and empowering people across the state on a whole host of issues, including mountaintop removal. Practically every place we walk into-community colleges, homes, churches and especially the Appal Shop-is decorated with locally made quilts that celebrate the beauty of the area. And tonight, we were entertained by live music performed by our hosts, Charley and Vanessa Hall, including a ballad about coal miners. (Vanessa is a coal miner's daughter).
This area, seen by corporations only as rich in coal, has a deep sense of its own culture and art, which it has been a privilege to experience.
DAY 12
Feb 24th
Cumberland - Wiley's last resort
Today began with the devastating news that the Australian Federal Labor Party has backed down on it election promise and today the National Radioactive Waste Management Bill (2010) was introduced by Minister Martin Ferguson
This Bill fails to restore fundamental rights suspended by the former Howard Government's Commonwealth Radioactive Waste Management Act (CWRMA). The new laws can be used to impose a nuclear waste dump in the NT against the wishes of both Aboriginal landholders and the NT Government.
For more information go to
http://www.beyondnuclearinitiative.wordpress.com/
Then our day of walking began with a 2-mile walk straight up to around 3000 feet elevation!!! Then the snow began and kept on coming... Our plan was to walk up to the State park and take a walking track for 14 miles. A support vehicle was coming to meet us from the other direction with some lunch and hot tea. About 10.30 we got a call from them and were told that there was way too much snow and they could not get up to us in a car. We were told we should turn around, and walk back to where we had started. After the news we had received this morning about the waste dump in Australia and our determination to just keep going, no matter what, we decided to just keep walking forward.
It was a long haul, and the snow just kept on coming, but we just kept on going. Big thanks to Jon and Amaas who hiked on in from the other end to bring us some lunch and hot water.
We were also being driven today by the information that the Senate in Vermont were voting on the license extension for the Vermont Yankee nuclear power plant.
As the snow got heavier and we were nearing the end of our walk we received a phone call from Hattie, she has been working endlessly to close Vermont Yankee. Well today she was so excited and informed us that the Vermont Senate has voted to block the state's only nuclear plant from operating after its license expires in 2012.
Vermont is the only state in the country with a law giving its legislature a say over a nuclear plant's relicensing. The Senate's 26-4 vote against a 20-year extension of Vermont Yankee's license marks the first time lawmakers have formally weighed in on the question.
With the Vernon reactor leaking radioactive tritium into groundwater and its owners accused of misleading state regulators about underground piping at the plant, even senators who might have supported the license extension said they would have a difficult time doing so now.
So we finished our day off on a bit of high, and finished our walk in great spirit. We were then taken to Appalshop, which is a radio, film, music and just about anything you can think of seems to happen here. It started a couple of decades ago as part of a program called "War on poverty" and has been here ever since, helping poor communities, teaching students how to make documentaries, speaking out about environmental issues in the community and recording Elders stories. There is so much about Appalshop and you should check them out at http://appalshop.org/
DAY 11
Feb 23rd
REST DAY...
As we often do on rest days, we started the day with a circle to talk about business. Luckily we only talked for a little over half an hour. We then fixed a large lunch because later in the afternoon we have a tour of the area by a local educator and activist. He was able to describe how the communities of Benham and Lynch, just outside of Cumberland, were once coal camps where everything from housing, stores, schools and government were run by the coal companies. We stopped at a demonstration coal mine in Lynch and walked into it a short ways so we could understand better the conditions under which coal miners worked. There are still coal mines in operation in the area, but this one has been shut down and is now a tourist attraction. The community of Lynch is currently fighting to prevent the licensing of a strip mining operation just above the town which they believe will contaminate their water supply if allowed to proceed. We then drove to the top of Black mountain which is on the border between Kentucky and Virginia, and is the highest point in Kentucky. We went up there because there is a mountain top removal operation visible from the top of Black mountain. Unfortunately the fog was so dense we could barely see thirty feet in front of us, but the trip was worth it because there was still deep snow and the frost on the trees was beautiful. We then came back to Souteastern Community College where we saw murals and paintings by students depicting mountain life.
It was inspiring to learn more about the rich history of the struggle for justice by the people of this area; from the United Mine Workers efforts to win decent pay and working conditions for miners, to today's efforts to prevent the coal companies from destroying the mountains to get what's left of the coal out of them. The purpose of our walk is to raise awareness of the dangers of the nuclear industry, so it was extremely powerful to have our awareness raised by this exposure to another struggle to make the world a better place by people whose everyday lives are threatened by forces who place profits before people. May they succeed in this effort.
DAY 10
Feb 22nd
Harlan - Cumberland
Today was another day of coal trucks passing us every 20 minutes or more. We passed about 3 huge conveyor belts coming down from the mountain and dumping huge piles of crushed coal beside the road. It is overwhelming how much coal we are seeing being transported out of this area. Even some of the old time coal miners are starting to speak out about the mountain top removal and how unsustainable it is. They talk with such passion about their love of the land here, how pure the water is in the streams, and how it will all be destroyed through mountain top removal.
Again we were told of the huge subsidies that this industry is granted, so as they can continue, with out these subsidies and special conditions granted to them they would never be able to operate.
We were told a horrific story of a family who lost their young boy to mountain top removal when a boulder came down the mountain, through their house and killed their 4-year-old child.
It is a continual story of devastation, from lives being lost to the hundreds of small streams that have been filled in with what they refer to as overburden. This is the topsoil and rock that sits on top of the coal deposits, that they are blowing up the mountains to get to.
The whole situation makes no sense what so ever, why is the government supporting this kind of development and suppressing the development of renewable energy.
We need urgent action on Climate Change, we need to be phasing out our addiction to coal and oil, BUT our solution is not to NUKE THE CLIMATE.
Renewable energy technology is here, it works, we have witnessed it on other walks in small towns, in large cities. We have seen it work that means it exists.
Where is the Governments vision of a sustainable future, a future that could help heal the destruction that has been caused by our past actions?
Why is the government refusing to make the transition?
These are the questions that run through my mind as I walk down Hwy119 witnessing the carnage here, and remembering the devastation caused by the mining industry back home in Australia.
DAY 9
Feb 21st
Harlan County - Harlan
Today we started at the border of Harlan County; the sign saying you are entering Harlan County is placed on a big pile of Coal. We have been seeing signs the last few days saying "coal keeps our lights on" "This business supports coal" "Coal is our future" All day as we walk we are constantly being passed by coal trucks and massive freight trains hauling up to 30 - 40 containers of coal. It is saddening to see this happening and also talking to he people who are trapped in his industry, it is one of the poorest parts of the United States with around 50% earns under $10,000 year.
The reality of the coal industry along with the nuclear industry is one of a history of manipulating poor communities in to accepting that his is their livelihood. It is something that does not have to be; renewable energy could replace so much of this destruction and disregard for the environment. If the 8 billion Obama is promising for 2 nuclear reactors was invested into renewable's, and the community we could begin our transition from fossil fuels and nuclear to a more sustainable future. This is already happening in a lot of small communities through out the world and will continue to grow slowly, but with the political will for us to move forward in this way the transition could be much faster.
DAY 8
Feb 20th
Pineville - Harlan County
I caught up with the walkers at the First Presbyterian church in Pineville, KY. It was good to see my road mates again, and after hugs all around, and an introduction to Senji Kanaeda shonin another nipponzon monk who had joined the group from Seattle, Washington, I was ready to get some rest for tomorrows walk.
We got an early start on a frosty clear morning that would warm up nicely and bless us with a good dose of vitamin D providing sunshine. It seemed like a good long while since we had seen ole Sol. Just as we were ready to leave the church, Kate, a student newscaster from the University of Tennessee arrived to video our walkers and interview several of the group. She promised to send us a copy of her presentation so we can post it on the updates at a future time. Our route for the day carried us along the Cumberland river on our right side and Pine mountain on our left. A beautiful setting to walk through, at least until we passed the scattered sites of several strip mine scars on the mountains that shot up on our right above the river. These old strip mine sites remind us why it is we are out here going down these roads. Even though our current mission is to help bring about the end of nuclear weapons and the nuclear industry as a whole, we must be mindful that without this appalachian coal to burn to generate massive amounts of electricity to process the uranium for both reactor fuel rods and into the finer form of weapons grade plutonium, the nuclear industry couldn't exist.
As we neared the end of our walk we passed the sign for the turnoff to Camp Blanton, a private event oriented camp with lodges, a pond, and a swimming pool adjacent to one of the largest tracts of old growth trees in the eastern states. I have seen the much smaller Lilly Cornett woods and have a strong desire to visit Blanton forest to walk among the grandmother & grandfather trees. I couldn't help but wonder what this place must have looked like hundreds of years ago when the virgin, climax forests covered millions and millions of acres of Kentucky.
We were picked up by our support driver for the day, Amasa, just past the Harlan county line and headed for the TRINITY Catholic Church in the city of Harlan, Kentucky. They had graciously agreed to let us overnight for 4 nights. We have to walk our miles on highway 119 and then caravan to the church each night because of the difficulty in obtaining sponsors in this sparsely populated mountainous section. Our hosts prepared a welcome chili dinner for us followed by a presentation on the history and problems related to coal mining given by Roy Silver, a sociology professor at Eastern Kentucky Community College. AS it turns out Ron had played on a softball team with our main organizer for this walk, Jon Blickenstaff.
Tomorrow we face another long day of walking through the beautiful mountains of eastern Kentucky on our long journey of prayer and self-discovery. We are all grateful for this opportunity to carry this important message from village to village in the style of our ancestors, mentors, and teachers. We are standing on the shoulders of giants. Never give up! Til the AM...
DAY 7
Middelsboro - Pineville,
Well the snow has finally stopped and the sun is out as we begin our walk in Kentucky after an amazing rest day in Middelsboro.

We were fed constantly by an amazing group of people who are part of the Catholic church there. We will have to walk hard over the next few days to ose some of the pounds we gained there.

We will also be walking hard after finding out that President Obama has promised $18.5 billion in already-approved nuclear loan guarantees, which will be rushed out to unworthy applicants. This will increase the already high risks that taxpayers will be left holding the bill for defaulted projects.
President Obama may also request to triple the nuclear loan guarantee program in the 2011 budget from $18.5 billion for new reactors, to $54.5 billion. Along with this there is already the $2 billion in already-approved loan guarantees for new uranium enrichment facilities!
The Nuclear Energy Institute, which is chaired by one of Obama's big supporters, Exelon Nuclear CEO John Rowe, has described the taxpayer loans as the main frame of its "Permanent Financing Platform for new reactors in the United States.
This does not include the increase in funding for the U.S. National Nuclear Security Administration to $11.2 billion in the next fiscal year..

It is easy to see that the Government is not committed to Nuclear disarmament, and while it is talking up sanctions on North Korea, Iran and others, it is quietly increasing its funding to the nuclear weapons and nuclear power establishments.
We must demand that this funding be put into education, health care, renewable energy and other programs that will benefit society. This would show us a strong government committed to peace with a real vision for future generations.
FEB 18th, REST DAY.... YAY!!!!!
Day 5
Town Creek - Middlesboro,
Another snowy day for walking. We have been walking east along Tennessee route 68 through Powell Valley, just south of the Cumberland mountain range that runs parallel to the road. It has provided a beautiful backdrop for us as we walk down 68 with it's wide shoulders and rolling hills. As we approached the junction with 25E which goes north through Cumberland Gap, also known as Warriors Path and Path of the Armed Ones, we had our first of several encounters with law enforcement. Just concerned about our safety. We ate a delicious lunch in the church we slept in last night (we had shuttled walkers back to the point at which we stopped yesterday) that was prepared by Cindy who with her husband Kevin organized all of our accommodations in Tennessee. Kevin walked with us through much of eastern TN, and their whole family escorted us as we finished up our last miles in Tennessee.

After lunch we began our trek over Cumberland Pass. Our second encounter with law enforcement came when a national park ranger tried to say we couldn't walk over the pass because we were "protesting". We weren't in the park yet, so we continued walking. As we entered the park, his supervisor gave us their final argument, that our banner and flags meant we were a protest, and that in order to walk through the park we would have to furl our flags. After complying we continued the hike. Everybody agreed that this was the most beautiful part of the walk so far. Huge trees, bubbling mountain streams, and beautiful vistas helped us forget about the difficulty of the trail.

After hiking forever to get into the park, getting over the pass seemed relatively short. A couple of park rangers were waiting for us on the other side to make sure we hadn't unfurled our banner. We were glad to reach our accommodation and eat a delightful dinner provided by our hosts. We are now ready to begin the Kentucky phase of the walk.
Day 4
Feb 16th
Fincastle - Town Creek,
Click here to read the newspapper article from the Daily Beacon

Click here to read the newspapper article from the Middlesboro Daily News
Over the last few days there has been quite a few bizarre events that have occurred involving our stay places. Firstly the walk was asked not to arrive at our stay place until after 5.00pm. The reason for this was that they were having a funeral. What we found out later was that the funeral was for a man that had been employed to help clean up the Fernald nuclear facility in Ohio. During this work he was exposed to radiation, which was the cause of the cancer that finally took his life.
The next day we made it to the center that was hosting us, only to find out that the facility had been built with money from a local man who had won a settlement from the government due to health effects caused by working at the nuclear facility in Oak Ridge, TN.
Over the last few days we have been hearing a lot about President Obama's promise of money for 2 new nuclear power plants in Georgia. We will post the info on this situation as we find out the amounts and conditions.
DAY 3
Jacksboro - Fincastle,
Leaving Footprints

In memory of John Toren who lived and, Urged the creative life and,
Heaped blessings of so good and deep a love,For you all. He graced walks for peace sometimes from his home not as an Unmanned drone destroyer of life but ever present,
Guide and supporter and does still, John Toren - !Presente!

Earth rises, Friends circling round ... In early morn' light ... in this season and out of this season, in all seasons, Stillness distilled - fears cast aside, anxieties calmed, Sage a-smokin' and cleansing, Flame mourning Hiroshimas, Lighting the waiting road ahead, A road lit by a sun that lighted, Gandhi, and All our ancestors, Saints.

Listen, Now, Here, To their dream voices, Remember their cries, For justice, Their witness for peace, Their endurance for hope, Claim their stories for your inward and outward journeys. All who have gone before us, And made the path clearer, Carried in their walking moments, The sighs, sorrows, hope ... Yes, hope for a Topside future without weapons and war and the Befouling of the earth - forever without warLeaving footprints.
Brother healers, sister sojourners, In the heart pulses of peace dreamers, Walk the loam of earth ... millions of years old, And them some - awaiting you in the dawning of this new day.
Be filled with spirit, That is more than one's own spirit, Feel it underneath your walk, In the wind, Through the words ...Chants ... drumming ...
In the receiving and giving of hospitality along the way, Get right down to everything and everyone in life with joy. Greet all, With, Smiling eyes, Honoring bows, Strong hugs.
You, mourners of Hiroshima and Nagasaki and endless wars, Carriers of light and hope, Yours is no crooked path of niolence and destruction, Yours is the promised and practiced way of peace, justice, non-violent|one.
Stay the course, Hold the land together, Hold the world's cry for a new future, Hold the good company of friends, Close to your hearts ... share bread.Walk with courage, To the 4 directions ...Until tomorrow comes, Until tomorrow comes. Erik Johnson
Clinton - Jacksboro,
Today's walk took us on a 20-mile mission with light snowfalls throughout the day. But this gave us time to think about where it was, that we started walking from yesterday, and where, we are walking to. It is hard to believe that the United States thinks that it can seriously talk about disarmament while they pour billions of dollars into the upgrading of their nuclear weapons stockpile.
This is also true for Great Brittan and all the members of the U.N Security Council. It sounds like a step forward when the U.S says that it will negotiate downsizing its stockpile of nuclear weapons to 1,600 warheads!! And maybe it is a step forward. But that shows us the sad state of affairs that we are now living in. Praise the U.S for only having 1,600, but condemn Iran for the idea of having the possibility of building 1.

While President Obama continues to fund these upgrades of the U.S nuclear arsenal and gives the go ahead for a new era of nuclear power in the United States, the reality is that he is continuing the republican dream. Are the governments that controlled by the nuclear, oil, and coal industries that the governments can give subsidies to them and crush the renewable energy sector? When will we the people finally say enough is enough and demand justice for the earth and future generations.

Although the walk is hard, cold and some of us are already feeling our blisters, there is always some time to do a bit of clowns on bikes training!!!!!

Tomorrow there is more snow on its way!!! But at least we will have more to think.
Feb 13th
DAY 1
Y-12 - Clinton,
Today we were joined by over 50 people for the start of the walk from the Y-12 nuclear weapons facility. Ralph Hutchinson from OREPA (Oak Ridge Environmental Peace Alliance) spoke of the work that Y-12 is doing, and how it is in violation of the Nuclear Nonproliferation Treaty. Y-12 is currently refurbishing the United States nuclear arsenal, but in the process of this they are actually creating not only more powerful nuclear warheads, but also giving them an extended life. In reality this IS a new bomb.
Many others spoke about John Toren who passed on to the spirit world recently and how this walk is dedicated to John, Eric read a beautiful poem and Larry read an inspiring message from Jim Toren. (see above)

The weather was amazing as it had been snowing for the past few days but the morning was beautiful. We walked to Clinton, which has a civil rights museum that we visited. The town was engulfed in racism and segregation in the 40's, 50's and the history of their struggle is inspiring.
It is another stark reminder that fear leads to racism and hate and people overcome by hatred build weapons of mass destruction..

It is time to view everyone as our brother and sisters and rid the world of racism, hatred and nuclear weapons.
Peace & solidarity
Marcus Atkinson
Read the newspaper article from the Oakridger - Click Here
For video of the opening circle - Click here
Pre Walk - Circus night
Message from Jim Toren
Welcome to the site of the "New" nuclear weapons facility. Does that sound as crazy to you as it does to me? Wouldn't it sound better to say welcome to the site of the new Renewable Energy Center or the site of the New Peace Museum?
Well I guess until then we will all just have to keep coming together to walk, run, pray, and clown around until the ones we call "they" listen.
I would like you all to know that I will miss being with you all on this year's event. But as some of you know this walk is being dedicated to my father John Toren who was a great peace activist. A man who never knew a stranger. If you have ever met my dad he either considered you his brother, sister, son, daughter, grandson or granddaughter. And if we could all think like this then we could never think of killing each other in war.
So in his absence, I would like to say when things get tough stay close, love each other, take care of each other, remember why we have come together. I love you all and I'm honored to be a part of this family and I will see you all in Ohio.