Tell a friend:
The safest way to make a donation

Nuclear Free Future Run

Updates From The Road
August 4th - August 8th - 2003
Day 1
Portsmouth Ohio to Ulysses Kentucky


We had a pleasant surprise at the beginning of this year's Nuclear Free Future Run / Walk. We were
featured on the cover of the Portsmouth OH newspaper and
Fellowship Of Reconciliation
greeted us at the Horseshoe Mound. Jim and Che Addington hosted our overnight in Portsmouth and as always gave us great support for the run. They are also the caretakers of the Mound. The big project going on with the mound right now is to raise money for a sign for the Mound. This Horseshoe Mound is the only one of its type in the world and they have worked tirelessly to preserve it. The other group that came to see us off was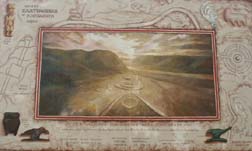 Eric he is a writer for a independent newspaper called the Portsmouth Free Press. They do some great articles on what is happening at the Piketon Gaseous Diffusion Plant. The floodwall that we run past every year on our way out of Portsmouth has an image on it that shows what the Portsmouth area used to look like. This is our first day of our run so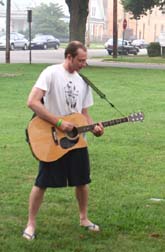 Mark started us off with a song that he wrote 4 years ago after he did this run with us called FootPrints
.
To listen to Marks song click here
We head across the bridge into Kentucky and start heading south towards the Blue Ridge Mountains. We will follow the proposed route that nuclear waste will be brought to Piketon from the Y-12 Plant in Oakridge TN our final destination. We do this run not only to carry the message that "All Life Is Sacred" but also to support the action at the Y-12 plant happening August 5th and 6th this year. Organized by
OREPA
We usually arrive the day before and meet with a group of walkers from Nipponzan Myohoji a Buddhist order that walks for peace but this year I don't know if we will be able to cover the mileage by the 4th. We got some help in the beginning some of the group from Fellowship Of Reconciliation they covered 8 miles for us today. That night we figured we had to cover 57 miles a day to make it by Saturday the 5th we would rally like to be there on the 4th so that we can meet the walkers at the gate. Today we covered 79 miles if we can keep this up we will make it by the 4th.


Day 2
Ulysses Kentucky to Dorton Kentucky


Another foggy morning the worst part of the fog is everything is wet but the benefit is its cool at least for now. We got the long runners out on the road first Jon and Mark are going for 20 miles each today so we want to get them out as quickly as possible. At noon it was 101 degrees out on the road with out humidity and pavement heat and everything else thrown on top of it. I didn't make it out for my run until 12:30 pm and paid for it that's for sure. When we got back to camp everyone was beat from the heat it's a nice place and we headed to bed pretty early tonight.


Day 3
Dorton Kentucky to Harlan Kentucky

We start out the morning like every morning wake up pack up and eat up my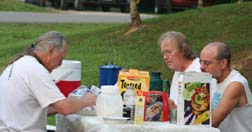 dad John is doing another great job of not only covering miles every day but also cooking all our meals. Terry called and said he will be here tonight it will be nice to have him here for the last two years now Terry has been a strong participant of this run.It's only 10:30 am and it is already hot out but today we have a nice breeze at least. We run over the mountains today we ran it last year its exactly 5.5 miles up and 5 miles back down the other side. Jon got stuck with it right in the middle of his 18 mile run today. We found a camp ground really close to were we stopped today just a field so we are sitting next to buildings for shade. I called Terry and he was on his way best I could figure he will be about 3 ½ hours. We had a little dinner and then I took the Van and parked it up at the entrance to the campground and waited for Terry to show up. He made it around 9:30 pm and after a quick visit we all headed off to bed. We know we are going to make it by Friday the 4th now.


Day 4
Harlan Kentucky to Speedwell Tennessee

Today I got a hold of Denise and told her that the run was going to be able to meet them at the gates on the 4th she was excited and glad that we were going to make it.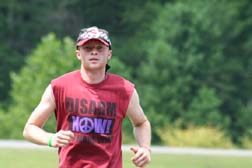 I also got a hold of Ralph and he said that it was no problem that we got there a day early. So we are set in Knoxville and Oakridge. Today we are going to run south of where we are staying and then drive back to camp. It's another hot one today but like Mark says as hot as it is it's not as hot as a nuclear bomb going off. That's just some of the things that you think about while your running. How small you really are in the big picture.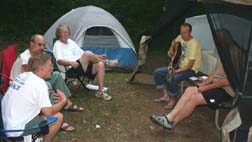 This will be are last night camping so we all stayed up talking the night away talking about the past events and what the future might bring. Mark got out his guitar and started a new song he wants everyone to participate this time and write a verse.





Day 5
Speedwell Tennessee to Oakridge Tennessee

We got up early because we don't want to take a chance on being late and we have about 25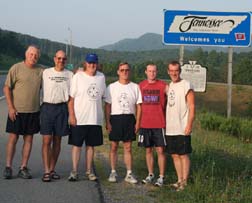 miles to drive before we even get to start running. We eat everything that is left in the coolers that will go bad for breakfast. At least we try, the energy is high it always is on the last day. Two years ago we had this same group and took a picture in front of the Welcome to Tennessee sign so we made a quick stop at the same place to take another shot. The end of an event is very exciting not only because we have made it but also it's a great way to end a run/walk hearing the drums of the walkers in the distance as we come around the corner on our way to the plant. We also know about all the activities that are planed for this weekend and are looking forward to being with all our good friends, family and meeting new friends as well. At our closing circle Utsumi – Shoni talked about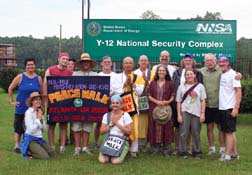 what a busy year it has been and how at the beginning of the walk his energy was kind of low but now that he is here and we have come together now he knows that we will come here again next year.


So until next year PEACE.